Is It a Bird? Is It a Plane?
NEWS FROM NON-BORING HOUSE Is It Another Great Awakening? Plus A Visit to Metropolis, Where It's Not Just Kryptonite That Glows In the Dark
How Long Is This Post? About 2.500 words, or 12 minutes
My Dear Nonnie Friend,
Hoosen and I came up the driveway of Non-Boring House today to huge applause from the Gnomes, following our whirlwind Non-Boring History tour speaking to kids and adults in Georgia (New Reader? Yes, I am a real historian, boring publications in scholarly journals, former professor (tenured and quit), and once invited speaker at Cambridge University. Just roll with this for now).
It's always lovely to return to the frozen North, to which we have taken like Kardashians to a camera. And that's likely my only Kardashian reference, because I'm still trying to figure out why these people are famous, but I'm not, let's put it this way, trying very hard.
Ahem. As you likely figured out, Hoosen and I had precious little time in which to see anyone or do anything other than migrate among speaking gigs around Georgia. I mean, I should have done what celeb writers do, and taken time off from Non-Boring History ("Just off to the tropics for a month, peasants! See you when I see you! Be grateful I write for you peasants at all!") But no, I am tortured by my lower-middle class Scottish Calvinist work ethic.
You enjoyed, I hope, my reports on visiting the city where FDR dropped a brick (Brit expression? And a bit old-fashioned? Whatevs.) and my failed visit to the city where Rosa Parks caught the bus, which is, of course, a massive understatement. I will report today on one more quick stop which was Super(man).
By the way, as a Nonnie, you have full access to the "archive" (I really, REALLY wish Substack would heed my complaints and let me call it something else: This isn't boring old past-it stuff. I wrote most of it to stay current as long as possible) You can search by keyword at Non-Boring History, and please do!
If you're not a longtime reader, you may be wondering why I'm not focusing on Black History Month, so here's my periodic reminder that I typically ignore holidays, and also that I don't go out of my way to talk about African-American history in February. No worries, I love African-American history: A British historian whom I once asked why he thought so many of us Brit scholars of US history are into black history said simply "Because it's the most interesting part." While ghastly "official" history seen in textbooks and curriculum is pretty boring horn-tooting, Black history is much more believable and engaging. That said, Black History Month has a somewhat different agenda than academic history—not bad, you understand, just different. I promise to write about that, too, soon. Just not in February.
Annette's Psychic NBH Links
I don't tend to do a lot of links, but, boy, there's a lot of news, not all of which I'm yet willing or prepared to discuss (although it's clear that a lot of the loonier gender stuff is hitting the fan)
Are you offended by these remarks on gender? Please address your complaint to the Nonnie Relations Gnome at Non-Boring House, who will carefully read your message, before placing it in the special round file. Thank you.
Here are just a few items that caught my eye. I would call this a "curated" list, but I have huge respect for real museum curators, and they don't deserve having their turf invaded by people who cut a few bits of cold meat and cheese, pop it all on a plate, and call it "curated". If by "curated" you mean I picked these links, rather than having the Gnomes do a random drawing, well, yeah. I guess.
If you enjoy Route 66 Still Kicking (not dead yet), which included my discussion of how black history is missing from the Mother Road, check out this news about Black history on Route 66. You may also enjoy reading about Albert Okura, who loved Route 66, and did his bit to preserve its history.
If you love my two-parter on Ledyard and Margaret Frink, entrepreneurial Gold Rush millennials, also available in podcast form, then check out the latest surprising news from California's Gold Country.
Kids to whom I presented Could You Be A (British) World War Two Kid? in Georgia this month were surprised to know that unexploded WWII bombs are often discovered in the UK. And then it happened again. And this one exploded.
The Twits Suppress Roald Dahl
This is about history, just not obviously so. Puffin Books decided to rewrite Roald Dahl's books per the recommendations of "consultants", the 21st century's easiest lucrative job. If you have never been offended by Roald Dahl, you never read him. And even if you were offended, chances are that you loved his work anyway. Dahl was weird, strange, odd, offensive, and so were his books. That's what made him great. He wasn't a steaming great mealy-mouthed hypocrite, and he didn't pretend that the world was never cruel: Kids and the rare honest adults know it is, and that's why (shameless plug alert) I am so delighted that they love my historical fiction series, which doesn't sugarcoat, and I only wish would be banned (best publicity ever . . . )
A friend of mine wrote eloquently:
I read Charlie and the Chocolate Factory when I was about 10 years old. I absolutely adored that book and it was unlike anything else I'd ever read before. Dark, cruel, nasty yes, but also funny, inventive, and just such a wonderful story. It had its own internal sense of good and evil , justice and morality : the sort that would appeal to children. As I was already growing out of children's books when I came to Dahl , I didn't read anything else of his. "Charlie " was one of those books that got me hooked on reading and for that, I shall always be grateful to Mr Dahl.
To which I could only add: My truly terrifying teacher, who could herself have been a Dahl villain, read us Charlie, perhaps not realizing most of us had read it ourselves. When she came across Dahl's odd one -time use of "bum" to describe one of the dreadful child characters, she stumbled on that naughty word, as it was then, and offered "child" instead. But we knew what she'd done, and laughed. It was a rare moment when she appeared weak, and I've never forgotten it!
Why does this matter at Non-Boring History? A major goal of what I do is to gently share my training as an academic historian in thinking historically. And that means not treating the past as a pitiful place full of idiots with "problematic" views, but as a place to be understood on its own terms, that often throws light on the present. Plus Roald Dahl rocks, and Puffin can P-off.
Here We Go Again?
I've written before about how historians are resigned to our fields going in and out of fashion. Russian historians, for example, in their beards and hairy suits spent years in the wilderness, consoling themselves with vodka. And then Russia invades Ukraine, and they're on every podcast and radio report!
Me? I retired from writing academic history. I'm an interpreter, a popularizer, so I no longer hang around history's Green Room awaiting my turn in the spotlight. Early American popular religious culture hasn't been a lively field in years, anyway, not since Tammy . . . Wait, what's this? Could this revival at Asbury University, a small evangelical Christian college, be another Great Awakening? Is the fact that even the Episcopalians (the Episcopalians! Is nothing sacred?) are holding revivals be a sign? Ooh, look! Possible speaking engagements for me!
Well, maybe. Too soon to tell. But I wouldn't be surprised. The First Great Awakening happened at a time of great wrenching change in mid-18th century America: The rise of slavery, inequality, and massive consumerism, especially among the rich, doesn't that sound familiar? It starred, oh, wait, Episcopal evangelist George Whitefield, whom my professor used to call a cross between Oral Roberts and George Michael, a reference I can no longer update because, um, I don't know who the equivalents would be in 2023.
That first Great Awakening gave us evangelical Christianity. The second one, a century later, held during another period of wrenching change, income inequality, massive consumerism, etc, gave us some seriously radical social experiments among evangelicals, like the very un-Victorian and yet very Victorian free love Oneida Community, whose mansion home Hoosen and I stayed in last year (NO hanky-panky, thank you).
And in 1970, which was still the Sixties, as Vietnam raged, Asbury College (as it then was) had a massive revival.
So if this another Great Awakening, what will it look like? Who will be involved? What will it do? Honestly, I never like to predict, but especially not something like this. Just hiding behind my books. Tell me when it's safe to say something.
North Georgia Nonnies at Korean-European Mashup
Snow possibilities and the Superbowl dampened attendance at the Atlanta NBH Nonnie MeetUp, but it didn't dampen our spirits! In fact, we stayed much longer than planned, chatting about all sorts. Fun!
Whenever possible at NBH Nonnie MeetUps, I try to introduce Nonnies to interesting and unexpected places in their own neck of the woods they haven't met before. Last time, it was Pie Society, a genuine British bakery in Savannah, and this time, Mozart Bakery on Buford Highway, metro Atlanta's international (but mostly Asian and Latino) restaurant area. Mozart are Korean-American-owned cafes, each with its own distinct aura, offering delicious European-style pastries, some with distinctly Asian flair. True, the branch on Buford Highway looks and sounds like Liberace designed it, but what a pleasant surprise when you walk into what appears a nondescript exterior in a strip mall!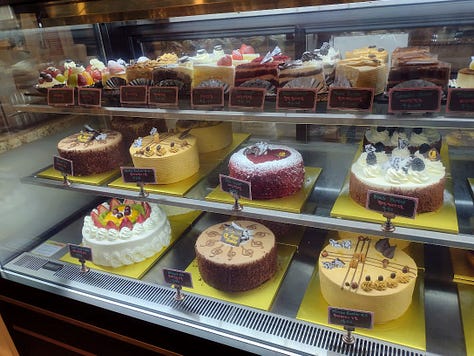 Arthur Times in Georgia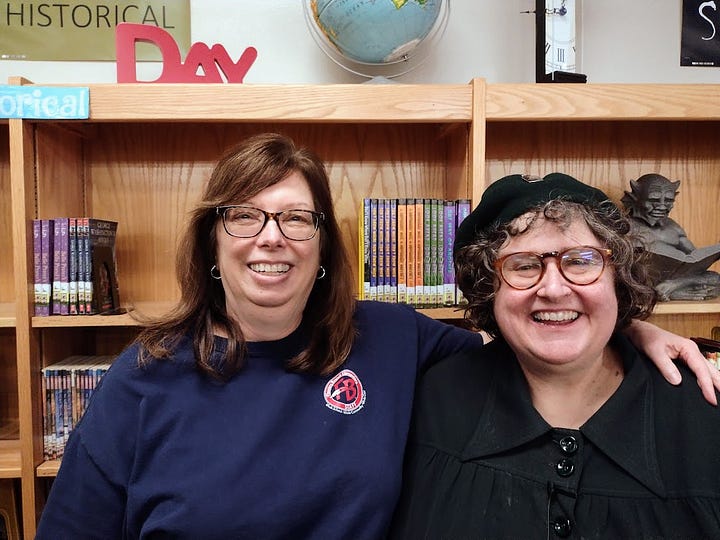 I learned from the late, great columnist Molly Ivins that author was pronounced "Arthur" in a Texas accent, and couldn't stop giggling. I love that I'm an Arthur, and I had two weeks of lapping up kid adulation, while sneaking in some of the history from my books, especially what it might be like to be a kid time-traveler in World War II England. Yes, UK readers, that's me in a knock-off WVS costume.
In Memoriam: Nonnie Paul Conatzer
I'm very sorry to report that Paul Conatzer, retired journalist, former resident of the US, and ever-keen fan of Everton Football Club, died late last year in his native Liverpool, after a long period of ill health. Paul (known as Pfbcon in the comments) was a great fan of NBH, and I always enjoyed his take. I offer my condolences to his friends, family, and former colleagues.
Hoosen's Choice: A SuperTown
I drag poor Hoosen (He Who Shall Not Be Named On The Internets, HWSNBNOTI, or Hoosen Benoti) all over the US, Britain, and beyond to look at all sorts of history-related thingies, so it's only fair he gets to pick sometimes.
Keep reading with a 7-day free trial
Subscribe to Non-Boring History to keep reading this post and get 7 days of free access to the full post archives.