Meet Annette Laing, PhD, and
Non-Boring History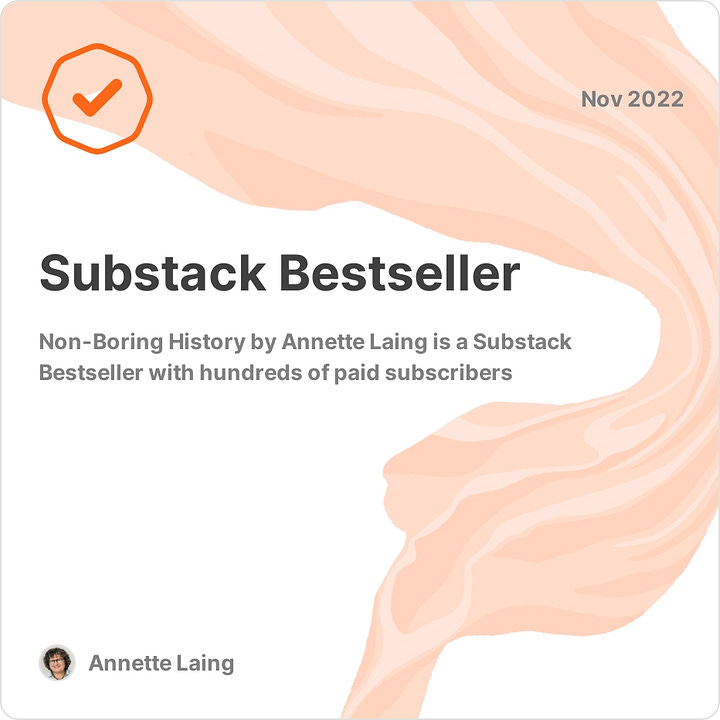 We live in strange times. Well, blimey, what else is new?
You may like history. You may hate it. You may not be sure. You may have got here by accident while looking for a newsletter on quilting, or samurai warfare. Who knows? You're here now.
Hello there! My kind of person! I'm Annette Laing. I'm a renegade ex-professor of history (tenured, and quit, not fired, thank you), and Brit in the US. As I will never tire of telling you, this does NOT mean I know everything. because that sort of cult leadery claim is very unHistorian. Historians, like all real experts, are fond of pointing out what we don't know. Which sometimes makes credibility tricky for us. But there's a lesson in that.
Non-Boring History is not history. It's history, translated. I am a historian who trained as a journalist and as an academic, and that, as it happens, matters. A lot.
Outside of universities, most people think that "history" is either everything that ever happened in the past (nope) or, if it matters, enshrined in, say, massive textbooks for schools and introductory college classes. Nope. Or a Broadway musical that shall remain nameless (cough)
Nope.
Non-Boring History is important history that is actually relevant to understanding all our lives. It's history you almost certainly didn't know exists, but will be fascinated to know about, retold as chatty writing with jokes! No footnotes, but I have academic historians breathing down my neck.
I aim what I write at US and UK audiences, conscious of translating the unfamiliar, but I warmly welcome any reader around the world who finds what I write enjoyable and useful. This is your chance to see the world differently, to understand, take joy in, and value things that never made sense before, or that you never even noticed.
Real history, the stuff professors write for each other, and the way that historians think, are both fabulous. However, they are hard to access.
At Non-Boring History, I interpret academic history and how historians think for real people like you. I walk you through stories and ideas. You'll meet actual people who write academic history. You'll also learn to "read" and enjoy museums, the best of which do a great job of introducing the public to history, and the worst of which . . . can be rather fun. We visit a vast range of museums and historic sites in places you never thought of going yourself, like Nebraska or Stevenage, unless you live in Nebraska or Stevenage, in which case, I am so sorry.
As you keep reading, you will start to notice the world coming into focus. It's like learning to read a new language. And that's what history education is supposed to be, but seldom is.
At Non-Boring History, you may discover why you think what you think, no matter what that is, and maybe change your mind. You will discover interests you never knew you had. And you'll have a good laugh. Can't beat that.
Become a Nonnie, a paid subscriber, to get the big picture, not just the occasional puzzle piece.
How Non-Boring History Works
Non-Boring History isn't just random free stuff. I'm your guide, and my goal is to hook you on whatever history I'm into at any given time. I aim for variety, and I aim to entertain.
Every email links to a post on the NBH site, where it's housed in one of several collections:
TALES: Annette Tells Tales. These long-form posts are the heart of what I do. Here's where I rewrite historians' often boring prose, as well as original documents, into something normal people actually want to read.

ALOUD: Non-Boring History Aloud. Podcasts of Annette Tells Tales posts, for Nonnies on the go.

ROAD: Annette on the Road. Join me virtually as I travel in the US and UK. I'm often accompanied by my non-historian, real-person spouse (He Who Shall Not Be Named On The Internets, or HWSNBNOTI, pronounced Hoosen Benoti), who represents normal non-historian people like you.

BITS: Bits of History. I pull random items from my personal collection of junque, erm, anti-kews, um, collectibles, and show how they're not so random.

THROWBACKS. Writing and experiences from a life lived in archives, classrooms, and museums.

HISTORY & MEMORY: How real people (i.e. not academic historians) think about the past has changed over time. Historians like to study this, and I like to report on what they discover. We call it History and Memory. And let me tell you, this will rock your world.
Readers Rave
I am so captivated by the stories and love Annette's sense of humor!
The variety of topics covered has been really great.
I love it. I like the humor, the down to earth method, and the asides. Annette, your personality sells it for me, as much as the learning.
I always learn something unexpected when I read your articles. I also introduced my daughter to NBH for use during homeschooling her son.
The depth of storytelling is excellent -- provides both context and character.
I think it's opened up my horizons. As a British person, I've only ever studied British history; I've really enjoyed the information that NBH has provided about the US, and the links with British history.
Your content has allowed me to realize people are not so much all good or all bad. Things can be grey.
It has allowed me to have great conversations with other readers and to think more deeply about the past.
And From Historians:
I'm glad you enjoyed Doomsayers, and I think you did a fantastic job of capturing its spirit (in accessible prose) —Dr. Susan Juster, Rhys Isaac Collegiate Professor at the University of Michigan.
If you love history but find popular history uninteresting, focusing as it usually does on biographies of famous people and wars, and a lot of academic history inaccessible or even boring (it usually is), then you will love Annette Laing's Non-Boring History. With a discerning eye for interesting scholarship and a quirky, distinctive voice, Annette breaks down exciting scholarship, usually from academic presses, that curious general readers will almost inevitably miss. Check it out! —Dr. Daniel Kilbride, Professor of History and Director, Honors Program, John Carroll University.
Your Guide Is Friendly!
And that guide is me! Me, I tell you! Didn't see that coming, did you?
My qualifications? I'm not just another person who plays a historian, and that matters. I am a proper historian. I was a tenured professor of early American history and the Atlantic World at Georgia Southern University, where I taught classes in early American, transatlantic, and public history, and unlikely though this may sound, was also a member of the Africana Studies faculty. And while I'm a one-hit wonder as a historian, my modest career was a doozy: I changed how my academic colleagues thought about African-American religion (among other things).
My sense of humor survived my working for a university. Thrill, as I lead you through a big variety of subjects and ideas, hacking away at the academic jungle to reveal its treasures, like a short female Indy!
I can entertain the most unlikely audiences with history. I'm the author of historical time-travel novels for ages 9 and up ( also read by lots of adults who won't admit to it), and take in-person and Zoom Non-Boring History programs to students and teachers across America, from Georgia to California.
What does this mean for you, a discerning adult reader?
It means I take seriously that you don't have time to be bored. I entertain you. I have years of experience teaching hungover freshmen at 8 a.m. I can amuse a hundred nine year olds at once. I have spoken to young teenagers dozens of times, and lived to tell the tale. You are much easier to engage.
In return, while I don't expect you to read everything (and there are no tests), I don't write for folks just looking for random doomscrolling fodder.
I write for people who are open to new ideas, no matter their backgrounds or beliefs.
NBH is non-partisan, and very definitely non-shouty, although everyone eventually gets teased a bit. This is why historians are not invited to parties.
We don't do debates, not even in the comments. NBH is about entertaining reading, relaxation, and (okay, yes) thinking. But not the painful kind of thinking.
Join Us
I (typically) send two emails a week to Nonnies, paid subscribers. There's lots of variety, it really is "non-boring", and this isn't random "content". I have serious goals that benefit subscribers, and I do this as a full-time job. I cannot and will not work for "exposure" which I ask readers to step up with the price of a coffee per month. Here's what you get:
Learn how real historians think, why that's incredibly important, and how you can pick up those skills while being entertained, not instructed.

Discover your interests in history, and how any subject that academic historians deal with (not just wars and presidents) can open up how you think about everything. This isn't about trying to "know" everything.

Accompany me to museums of all kinds (virtually, and maybe one day in real life!), and learn how I approach them as a historian, and why that can be both very useful, and pretty funny.
Only paid subscribers get access to my collection of Non-Boring History posts at NBH on a wide variety of subjects in US and UK history, and on historical thinking.

Come behind the scenes with posts just for Nonnies

Nonnies take deserved pride in making possible my unique outreach to a world that needs serious history (not just factoids and myths)
---
People
Historian (PhD, Early American & British History), Published Scholar, Renegade Professor, Brit in the US, Missionary for History, Bringing People Together In The Present. Not a posh person. AnnetteLaing.com