More Than One Wright Way (Part 1)
ANNETTE ON THE ROAD Flying Around Wright Brothers Sites in Pursuit of Unfamiliar Familiar History
How Long Is This Post? About 4,000 words, 20 minutes
Note from Annette
We'll get to the Wright Brothers, I promise, but first, we're headed to Atlanta, Georgia, and, yes, this is related.
Years ago, I visited a school in suburban Atlanta dressed as a Scottish Victorian factory worker, and presented Could You Be A Victorian Child Worker? to fifth graders (ten year olds). This presentation takes up the theme of A Different Day, A Different Destiny, the third novel in my Snipesville time-travel series, in which two of my young heroes are dropped into the worst of the world's first Industrial Revolution, becoming child workers in factories and coal mines.
My Atlanta kid audience was horrified and yet ecstatically fascinated by the very idea of kids their age toiling away in factories and coal mines. I suppose that this made a pleasant break from their normal regimen of hacking away at worksheets, and toiling at tests. It's always a joy when my audience is that enthusiastic.
The wind fell from beneath my wings, though, when I was handed one teacher's evaluation of my talk. She complained that I should instead have informed the children of the "genius minds" (her words) behind industrialization.
Frustrating. I find most ten year olds are not very interested in long-dead "geniuses" who started things we now think mundane, or too abstract for kids to grasp. Much more inspiring for kids to imagine doing things that were considered ordinary in the past, but now seem insane, like, well, being ten and working in factories and down coal mines.
Ever concerned to be invited back again, because there's a lot of competition to speak in schools, I asked the school librarian whether I needed to revise my talk. She glanced at the handwriting on the form. "I know who that is. Don't worry about it," she said with a smile and a hint of rolled eyes. This was my second visit, this time for two days, and she now started talking enthusiastically about inviting me for three days next year.
I never heard from that school again.
Look, I prefer talking to kids. They're ghouls, sure, but at least they're open to thinking differently, to walking in others' shoes, and they're enthusiastic to learn: Really learn.
Adults, meanwhile, are hard for historians to impress, unless we lock them in a college classroom with us for two years at least, and force them to read, listen, discuss, and write at length until they (maybe) get it. Sadly, most adults don't get that chance, and only a few college students go beyond the often ghastly, superficial survey courses in history that the average university requires, and that most historians do our best to make meaningful. Increasingly, even those classes are taught by inexperienced and exploited adjunct instructors.
Most adults, whether or not they attended college [UK: uni], are misled into thinking that whatever they were taught in a classroom, or at least what was in that massive, unreadable textbook they gave up reading, pretty much is history.
So when journalists announce "Ooh, such and such has been left out of history! Shocking! I'm here to reveal all and save the day!", people believe them. Never mind that there's, like, a long shelf of books by historians on the same subject in every academic library. The historians have ignored it, the journalists tell us.
Yeah. Right. Slow handclap, journos. We've been telling you for years that's not true, and you pretend not to hear us. Hear this: Up yours.
Except for journalists' repeated "discoveries", most folks still assume that whatever history they don't remember being taught to them is "extra stuff". Now, people don't necessarily object to this "extra stuff". They don't have an issue with it. Most just aren't interested. They think it's surplus to their personal requirements. Details. Trivia. More than they want or need to know.
After all, the facts taught at school were the "important" ones, the necessary info. So if we hear a familiar name, one we recognize from what we learned back in the day, we count that a win, as confirmation that we know stuff.
That's nice, Laing. Whatever. Where are the Wright Brothers?
Look, when I put famous names in my headline, as I did today, with the Wright Brothers (see?) there's always gonna be a bit of bait and switch. Yes, I know that's naughty of me, but my purpose is pure. Many of my readers saw Wright Brothers and perked up. I knew you would! This was part of my evil plan!
And I totally understand. We all get lovely dopamine hits when we can say "Hey, I already know about that!" You know what? Historians do that too! Come to an academic history conference, and visit a panel in which historians read aloud research papers, which is as boring as it sounds. When you wake up, pay attention to the question period at the end. It's full of us excited academics in the audience going "Ooh, ooh! I know that! Um, I mean, I wonder if a member of the panel could address my longwinded statement, er, um , my question on the Thing I know about?"
As proprietor of Non-Boring History, though, it doesn't make me happy to pander to our all too human desire to feel affirmed. No. I'm here to take us on a wild ride through what we know little or nothing about, and didn't know we cared about, either. My goal is to take us on a trek through an entire world of history we have yet to explore. It's to draw back the curtain, and leave us breathless with the excitement and relevance of something that, a few minutes earlier, meant little or nothing to us.
In conclusion, and then I swear we're off to see the Wright Brothers, I'm not here to lead a predictable tour of familiar stuff for the purposes of worship.
Nope! In this two-parter, we're going to visit apparently familiar stuff we all "know" about the Wright Brothers, and I'm going to show how this historian found I didn't know it at all. Plus I'll show how I got tricked into learning something completely new and unexpected. I hope to explain why I really don't mind that happened, even though, at first, I thought it was really awkward.
So. Orville and Wilbur Wright. Yeah, yeah, we all know about them. Two lone geniuses who invented flight. Brothers, of course. Flew their sketchy contraption on a beach in North Carolina. It worked. And from there, it was all a smooth flight, well ahead of schedule, to bombing raids, airport misery, and probable climate damage.
For once, I started on a subject thinking I already knew what I wanted to know. The usual couple of lines in any ghastly US history textbook would do for this early American historian. First to fly? Well done, lads. That's enough, isn't it? Find out more? Nah, I'm good, thanks. 👍
If that seems unlike me . . . Kindly recall that science isn't my thing. If you're into aviation, then it would be my late Dad you want, not me. My father loved everything air and space related, from designing satellites to hanging out at Farnborough Airshow, to making flying Wright Flyer -like working model planes in the garage out of balsa wood and tissue paper.
While I've always been a nervous flyer, my Dad thought nothing of heading off to remote parts of the globe on DC 10s (In the Seventies, those always seemed to be crashing).
Yeah. I am so not my dad. I sit white-knuckled through the whole ordeal of flight even on the most reputable of airlines and aircraft.
So I honestly haven't a clue why I suggested to Hoosen we visit Wright Brothers sites on our September road trip from Madison, WI (home of Non-Boring House) to the US East Coast.
Hoosen, an engineer, was happy to agree to do the Wright Stuff. Sorry. I can think of so very many atrocious Wright puns, not one of them original. Rest assured, I will be using them all.
I planned our itinerary. I plotted a course (call me Mrs. Sulu) that took us by the birthplace of Wilbur Wright in the hamlet (cornfield?) of Millville, in rural Indiana. Later, after a stop in Washington DC, we headed for where the Wright Brothers did their thing, Kitty Hawk, North Carolina. Where else? (Actually, I have an answer for that.) Finally, on the way back west, and seven hundred miles from Kitty Hawk, we stopped in a city where we would find ourselves drowning in Wrightness.
We did all this by road. Driving long distances feels easier these days than flying. Honestly, rather than travel in a modern economy cabin with psycho passengers and exhausted crew, I think I might prefer to pilot a rickety wooden flying machine, with a bottle of wine and a bag of pretzels for company.
Along the way, as I'll show, we met the Wright sister, as well as a tragic poet with the Wright connections (sorry, can't help myself). I got an unwanted but amusing lesson in how flight actually works. Most importantly, I learned why it's terribly important for museums on a sciencey subject to balance stories of tech with stories of people, and not just to pander to non-techy visitors.
We started our Wright tour driving past Indiana cornfields one bright September morning, on what turned out to be a "we remember exactly where we were" kind of day.
Wilbur Wright's Living Room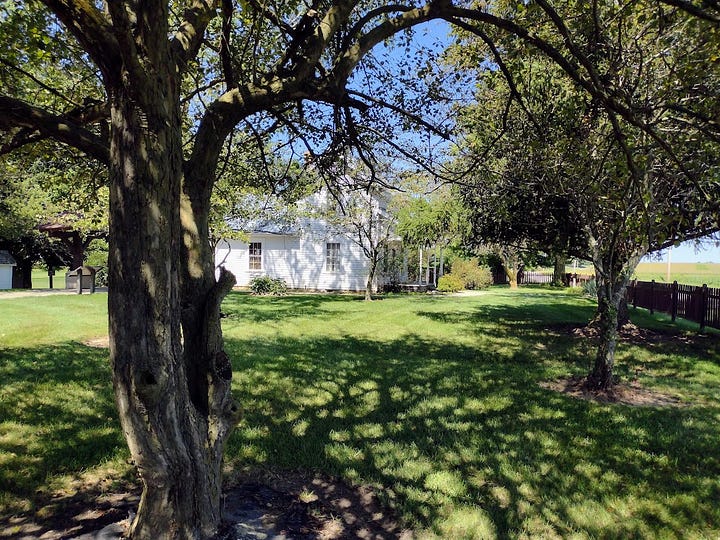 We were standing in Wilbur Wright's early childhood living room, the only visitors, when Hoosen glanced at his phone, and told me the Queen had died.
Ten minutes later, I had forgotten the Wright Brothers. I was sitting on a park bench, with my phone. In my head, I was no longer at a little museum in a small town in Indiana. I was home, in the UK, talking with family and friends. Only the warm blue skies and cornfields around me said I wasn't. Had I been more impulsive, I could have been home in time to be near the head of the queue for the Queen's lying in state. Airplanes changed everything about distance.
It took me a few minutes to get my breath back, to deliberately set aside my nagging achy perplexing grief, and refocus. Wright Brothers. Flight.
Turns out, the Wright Brothers had something in common with, of all people, not the Queen, but President Woodrow Wilson, who was only eleven years older than Wilbur.
---
An Aside: White House Flyers
No, President Woodrow Wilson never flew. The first President to fly on official business was Franklin Delano Roosevelt in 1943, because it's apparently now a rule at NBH that FDR must pop up in every bloody story, whether I want him to or not.
The first (ex) President to fly in a plane, purely for the hell of it, was (who else?) FDR's attention-loving cousin/Uncle-in-Law Teddy Roosevelt, seen here demonstrating his new extreme sport in 1910. If you think that photo's funny, you should see the video.
While the pilot, Archibald Hoxsey, flew white-knuckled in terror that he would kill the popular ex-President, Teddy happily waved at the cheering crowds below. I just showed the film to Hoosen, who was gobsmacked. "Was he nuts?!?", he exclaimed. I believe the answer to that is yes. Yes, he was.
A month after Teddy's joyride, his pilot, Archibald Hoxsey, was killed flying a plane, as he tried to break his own altitude record. He was the second test pilot ever to die in a crash: The first, his friend and rival, was killed just a month before. Oh, and the first person killed in a plane crash ever? A passenger whose pilot was Orville Wright. After that, pilots stopped wearing cloth caps, and put on helmets.
By the way, Eleanor Roosevelt, Teddy's niece, took to the skies before her husband Franklin, going up in 1941, and making a point of doing so with a black pilot, a Tuskegee airman, in Alabama, because of course she did. But now I'm already far ahead of myself and aviation history.
---
What Woodrow Wilson and the Wright Brothers had in common wasn't flight, It was that they were all the sons of ministers, men who moved often, from church to church, taking their families from town to town, from home to home, belonging everywhere and nowhere. That's just like so many of us today, and the fact that this is a much more common experience has to do with flight. Wilson and the Wrights, 19th century clergy brats, were pre-flight pioneers of mobile modern family living.
So Wilbur was born in this farmhouse in the countryside near Hagerstown, Indiana, into a family that already had two boys, and had moved twelve times. By the time Orville was born, four years later, the family was gone from here to Dayton, Ohio, where they finally settled down.
My introduction to the Wright family came from info posted on the museum walls. Dad, Milton Wright, born in 1828, looked exactly like the stern Victorian patriarch you might imagine. Except that he wasn't. He was a very progressive parent, as was Susan, his wife. They were the kind of parents who were unusual then, and may be even more unusual now, focused on happy kids who developed their own interests. I was fascinated to read this about Milton's relationship with his sons:
From their early childhood he encouraged them to seek factual information in books, but to do their own thinking. He gave his blessing to their spending what money they had on hobbies and experiments. It was all right, he said, to spend money in any way they chose, as long as they earned it. "All the money anyone needs", he said, "is just enough to prevent one from being a burden on others".
Encouraging his boys to be readers, independent thinkers, tinkerers, hobbyists? Obviously, that worked out well. But that's a 21st century way of thinking: Of course Milton Wright couldn't have imagined what Orville and Wilbur would become. And he thought his elder sons were the promising ones, not these two. He wasn't planning for any of his kids to be rich and "successful", but to be self-sufficient, and happy. He valued learning for learning's sake.
Susan, Milton's wife, was burdened by pregnancy (seven babies, five survived infancy), childraising, frequent moves, cleaning, and cooking from scratch without gadgets, or a helpful daughter (yet). Her breakfast menu is posted on the kitchen wall. Yet, in this little museum, Susan nonetheless emerges as a vivacious and creative woman, who was surprisingly highly educated: She was a college graduate (very, very unusual for a woman of her time), and she studied not only English, but math and science. What's more, Susan was far more capable at mechanical things than her scholarly husband: She built the kids toys, including a sled. And she did all this despite being ill much of the time, including with the tuberculosis that killed her at age 58. Milton and Wilbur nursed her in her final years.
Orville Wright later said of his upbringing:
"We were lucky enough to grow up in a home environment where there was always much encouragement to children to pursue intellectual interests; to investigate whatever aroused their curiosity."
19th century parenting role models for the 2lst century? Why not?
A Death in the Family
In a large building next to the Wright house, there's a lovingly built lifesize model of the Wright Flyer, with Orville lying face-first across the crude contraption. Good God, is that a bicycle chain? How on earth did they get this bizarre invention off the ground? It's all in the physics, I guessed, and I almost asked Hoosen, but then thought better of it. I tend to get lost easily when someone explains sciencey stuff at me. Usually about halfway through the first sentence.
Instead, I hurried over to a wall exhibit featuring excerpts from Milton Wright's diary. He recorded the last few weeks of his middle son's life. Wilbur came down with typhoid in April, 1912, from contaminated seafood in Boston. By May, he was at home, gravely ill. Like his younger brother, Wilbur had never married, so a widowed Milton watched anxiously over his son. The world was watching, too, and newspapers recorded every fever and rally and close call. Finally, at the end of May, Wilbur Wright died. He was only 45.
His father received visitors, phone calls, a thousand telegrams of condolence and more, but, in the end, Milton was alone with his grief. On Thursday, June 6, he wrote wrenchingly in his diary, "I felt Wilbur's absence as never before."
As a doting mum, I felt that familiar cold hand of fear and sadness. No matter how accomplished, how famous, Wilbur was, at the end of the day, he was Milton's son. The Wrights had moved a lot, and it had made them self-contained, and close, a closeness that served them well.
Orville lived on, dying at age 76 in 1945, having seen flight turned into a weapon of mass destruction in two World Wars. Wilbur, at least, was spared that. Ah, human stories. I'm always more comfortable with those than with boring old science and tech. Turns out, though, even I was being drawn in.
The Street Where They (never) Lived
I've long been a sucker for pretend streets in museums. So this sight at the Wilbur Wright Birthplace Museum gladdened my heart: An imaginative take on a Dayton, Ohio, shopping street in the Brothers' day, including the Wright Brothers' Cycle Shop.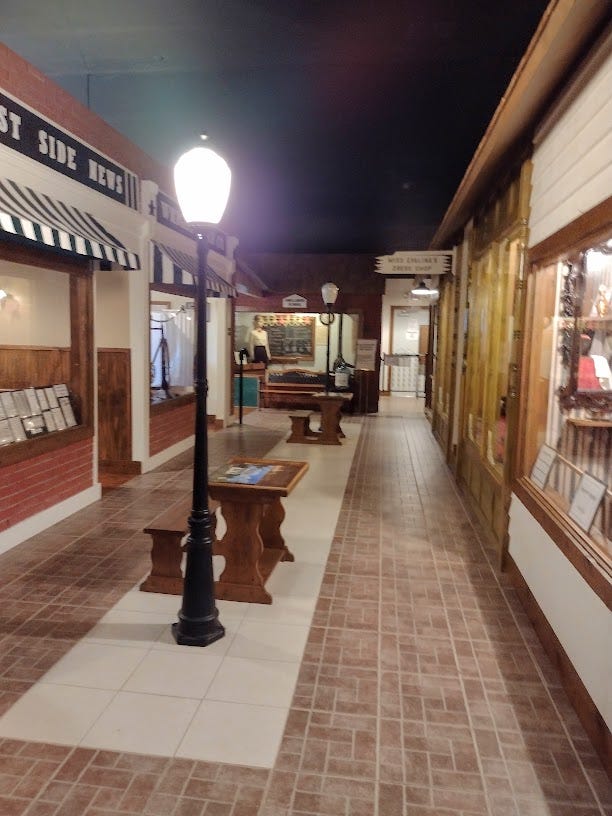 On the wall of the Wright Cycle shop, I spotted this:
Well, that's unexpected, I thought. The name Paul Dunbar wasn't ringing any bells, but what a neat bit of local history for Dayton, Ohio, sixty miles away. But what were the Wright Brothers doing printing newspapers? I recalled hearing about the bikes, but not printing.
"This is good," Hoosen suddenly declared of the shopping street.
"You surprise me," I said. Hoosen is, after all, an engineer, and the sort of person who can look up at a remote dot in the sky, and tell you exactly what kind of plane it is. He's also a stand-in for my readers who do get science, and who roll their eyes at my willful ignorance.
I looked at Hoosen quizzically.
"They don't just talk about the technology," he said. "They show you the world it came from. Most aviation museums don't do that."
"People, too," I said eagerly. "They do focus on people, don't they? That's cool." I thought of Milton Wright, whose son had survived repeatedly crashing from a homemade plane without a helmet, but who, in 1912, could not be saved from a rotten oyster. A different world indeed. And how fab that Hoosen understands that you can't really understand the history of science and engineering without understanding overall historical change. Then again, engineers always were among my best students. And top engineering schools require the equivalent of a humanities (history, English, philosophy) class every semester. They understand that history matters, while Education "experts" who aren't themselves educated, who rabbit on about the importance of STEM and ignore the humanities don't.
Stepping Into the Wrights' World
The Wilbur Wright Birthplace is an amateur museum. Don't let that put you off. It was lovely, and it got me interested in the Wrights, which is really saying something. It gave me a leg up to Kitty Hawk. It also got me thinking about a lively culture of curiosity that's being suffocated in formal learning.
This quote on a laminated bit of paper tacked to the museum wall caught my eye:
"If we had been interested in invention with the idea of making money, we would most assuredly would have tried something in which the chances for success were higher (than the airplane)." Orville Wright
On to Kitty Hawk . . .
Our next stop would be Kitty Hawk, North Carolina, eight hundred miles from Wilbur's Indiana birthplace, seven hundred miles from the Wrights' home in Dayton, Ohio. I had never paid attention before to the fact that the Wrights weren't Southerners. North Carolina desperately wants to take credit for them: The NC car license plate features a drawing of the Wright Flyer, and the words "First in Flight". Seriously? Nope. The Wrights were two blokes educated in integrated Ohio public schools. Good try, North Carolina. Extra credit for baldfaced cheek.
So what were two Midwestern lads doing here on the windswept, sandy North Carolina coast? Windswept, sandy . . . OH, that's why! Here, wind might lift their contraptions off the ground, and sand might not kill them when they landed. Gotcha.
Contraptions plural? Yeah. Don't laugh, but I had never thought much about the Wrights before. I always assumed the lads just built a crude plane, sent Orville hurtling into the air somehow, and then, voila! He survived, they won inventors' immortality and a line in a textbook. Turns out, it wasn't like that at all. I hadn't really paid attention to the fact that, like everything else, the discovery of flight was a process, not an event. The idea of "genius minds" is greatly overrated. Invention and discovery are group efforts.
The dogged, the patient, the determined, the endlessly curious, the lucky, tend to effect the most change. In writing recently at NBH about historian Ben Marsh's book on the history of silk farming, I was really struck for the first time that success owes as much to serendipity as to policy and planning, to random experiments by lots of people, as well as data, and, above all, to learning (or not learning) from failures. Here are some flight experiments in no particular order. Honestly, I always liked that adapted car that jumped up and down as it tried to lift off. How interesting flying might have been if it had actually worked. But no. We didn't get the Wrong Brothers. We got the Wright Brothers.
And the first thing the Wrights did right was pay attention to what others did. For five years in the 1890s, the world's most successful aviator was German Otto Lilenthal, who experimented with gliding, making 2,000 flights that ended with the one that killed him in 1896. The Wrights admired Lilienthal, and relied on his data for a head start. I learned this in the National Parks Service museum in Kitty Hawk, North Carolina, where the Wright Brothers finally got flight Wright. Right? Actually, no.
Where's the Beach?
Hundreds of miles and a week later, I was very surprised when we turned right (Wright?), away from the beach, to enter the Wright Brothers National Memorial in Kitty Hawk, NC, The most famous photo of the Wright Flyer shows Orville flying over a beach, with Wilbur (who lost the coin toss) watching him soar. But that site today, with the takeoff and landing points shown with boulder markers, is a vast field. I was confused the day we visited, and I'm still confused now, let's put it that way. I wonder if the beach was just a lot bigger then . . . Okay, making a phone call to the Wright Brothers National Memorial . . .
Okay, I'm back! National Park Service Ranger David just told me that the environment has indeed changed dramatically since 1903. Now, there's grass and trees where the Wright Brothers flew, but there wasn't any of that then. Kill Devil Hill, a tall, steep grassy mound topped with a stone monument, was then just the tallest of many dunes. "It was all sand, basically," David said. So now it makes sense, that famous photo:
Photographs aren't as reliable as we want to think. Photographers focus on some things, and ignore others. Take a look at the statues above: There's Orville lying flat on the Wright Flyer, and there's Wilbur watching him take off, just like the photo. But look, there's the cameraman! And look again, this time to the left. Here are North Carolina locals who, having taken a friendly interest in the Wrights' project, came out to support. "They have done it!" a teenager cried out as Orville landed after a twelve-second powered flight. "Damned if they ain't flew!" (North Carolina? Change the license plates: First in Aviation Cheerleading.)
Mission accomplished! All done now. Wright Brothers, enough to know. No. I was hooked now. I had had no idea the Brothers had conducted so many experiments at Kitty Hawk, starting in Lilienthal's giant footsteps, with gliders they launched silently off the top of Kill Devil Hill. The Big Day was only The Big Day because, for the first time, their attempt at powered flight worked. Otherwise, it would have been just another day of two bros on a beach. After The Day, it was back to the drawing board for the Bros. Orville and Wilbur Wright had been at drawing boards for a very long time. They would be for years more. Why? Stay tuned for Part 2.
Non-Boring History depends entirely on paid reader support. Thank you.
Like, comment, and please do: